On Wednesday, August 21st, 2013 Rice Women of Today held the 2nd Annual Bike Rodeo and Cookout. This event is a part of Minnesota Women of Today Kid's Week. All donations and sponsors were recognized on our Website and at the event. We were able to award 12 brand new bikes, helmets, and bike locks. We provided a T-shirt to all the children that participated along with a drawstring bag, water bottle, and other goodies. The Bike Rodeo itself involved 3 different courses and our Police Department worked the event with us. This year we had 58 children participate. In addition we provided a free meal to approximately 150 people. We would like to give a huge thanks to Shelli S. & Gretchen W. the chairs of this project for all their hard work to make this event a huge success along with all the Women of Today & husbands who helped work!
Bike Rodeo 2013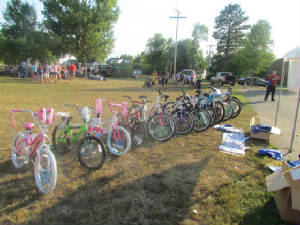 Other 2013 Donations presented to:
Ella's Halo
We donated goods in the amount of $500.00
Toys for Tots Drive
On November 24th, 2012 the Rice Women of Today held a Toys for Tots toy drive at Von's Prime Time Saloon in Rice, MN. The event considered of a meat raffle, bake sale, pool tournament, silent auction, lucky buck drawings, bingo and food. There were drop boxes at several area business that also were full of much needed toy donations! Rice Women of Today is very proud of the impact we make in our community and how they are making an impact on others! Together with a very generous community we were able to raise $3,468 that we donated to the St. Cloud Area Toys for Tots program. & Thank You to an extraordinary chair who made it possible, Randi Allgood!
Toys for Tots Drive